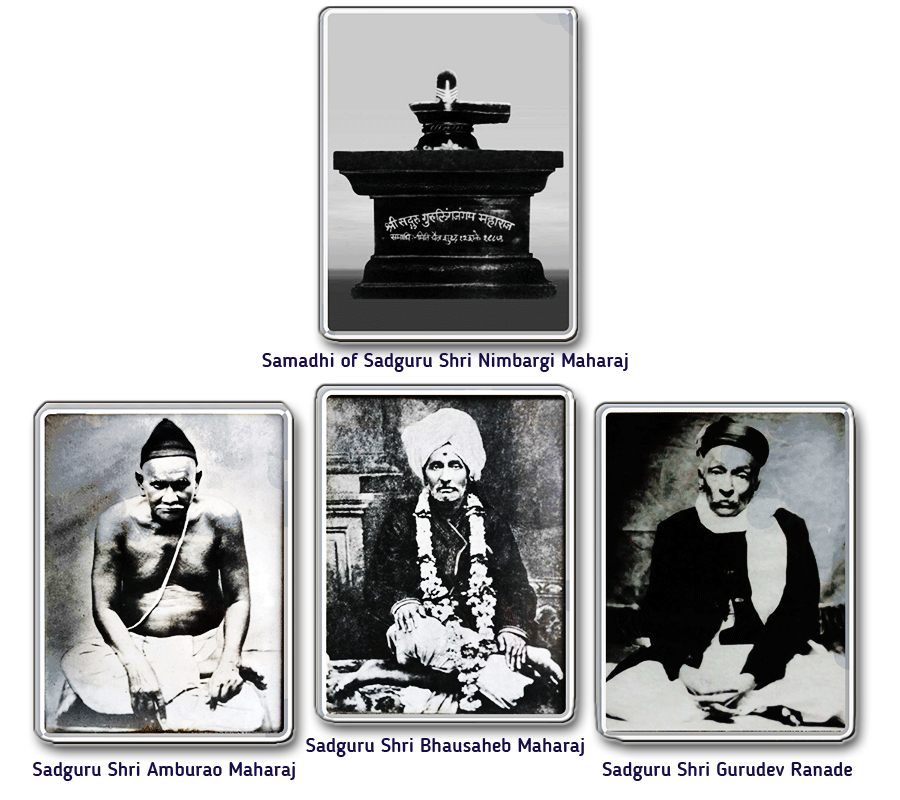 Sampradaya ( Sam – Pra – Daya) is a spiritual journey, a spiritual tradition that starts with a Sadguru and is carried forward by his disciples.
Nimbargi Sampradaya – a spiritual movement that began around 1857 started by its founder, Nimbargi Maharaj,  is flourishing today at its various national and international centers.  The foundation stones of the movement are rational principles and therefore attracted many, irrespective of caste, creed, economic status, occupation, gender and age.
It advocated attainment to God-head without giving up the worldly life that one led.  To achieve this, one had to follow the spiritual path prescribed by the Sadguru – Spiritual Master (in this case by Nimbargi Maharaj).  The path consisted of meditating upon the divine name imparted to him with utmost concentration and full devotion, giving up avarice and lust for other people's money and women.  The disciple had to perform meditation as instructed by his Spiritual Master day after day till the end of his life.  The essential idea being an attitude of complete surrender to God would be created culminating into God-vision – as a result of one's ascending efforts in his spiritual pursuit and God's descending grace moved by his devotion..
Nimbargi Sampradaya is one of such great sampradayas. This Sampradaya originated with the great saint of Nimbargi who lived in 19th century and this spiritual tradition was continued at place by the name 'Inchageri' by Shri Bhausaheb Maharaj of Umdi and by Shri Amburao Maharaj Of Jigajivani. Later it was carried on at 'Nimbal' under the benign and inspiring guidance of *Gurudev R.D.Ranade. (Gurudev=Revered Preceptor)
Nimbargi Sampradaya is 'Swarupa Sampradaya'. About this Sampradaya Sri Gurudev Ranade had once observed "This may be called 'Swarupa Sampradaya'- a Tradition of "Self Vision", which has been adopted since ancient times by seers like Narada, Yajnavalkya and others upto the modern times by saints like Jnaneshwar, Tukaram and Sri Nimbargi Maharaj . The Supreme ideal that they advocate is God-realization or Self realization or Self-Vision. It consists in the intuitive apprehension and silent enjoyment of the Bliss of the Atman. What is the nature of this Self-Vision ? About Self Vision, the Maitri Upanishad says "That Luminous Reality which comes out of us is the ecstatic state of consciousness and appears to our vision in our own form, is what we might call the Atman- The Immortal, Fearless Brahman (Maitri up 11 (2)). And Self-bliss, according to Chhandogya Upanishad consists in the enjoyment of the supreme happiness by the seeker when he has the vision of the Self (Atman) everywhere. 
The saints of this sampradaya do not believe in the philosophical speculations that are not based on their spiritual experiences.
Click here to visit the Important Places in the Nimbargi sampradaya (Inchgiri Sect).
One God. One World. One Humanity.
More popularly known among his close followers and disciples as GURUDEV (Revered Preceptor),   Dr. R.D.RANADE was born in the village of 'Jamkhandi' in Karnataka State, India.  He took his Master of Arts degree with distinction from Mumbai University.
From his student days, He had a spiritual bent of mind. Later, as a professor of philosophy in the Fergusson College, Poona and then the Head of the Department of philosophy and vice-chancellor in the Allahabad University, his record was a very distinguished one both in the academic and administrative fields.
His founding of 'Adhyatma Vidyapeetha' or a 'Spiritual University' at Nimbal and his authorship of very profound books on philosophy and mysticism were the outcome of his constant endeavor to know and live the Philosophy. His studies in Marathi, Hindi and Kannada mysticism are masterpieces of deep scholarship with popular presentation. He egressed in 1957 leaving behind a great reputation as a profound Scholar & philosopher, as a reputed author and as a mystic of rare religious Eminence.
His holy tomb (Samadhi) is present at the Nimbal Ashram and every year devotees gather at the Ashram to perform Spiritual programs.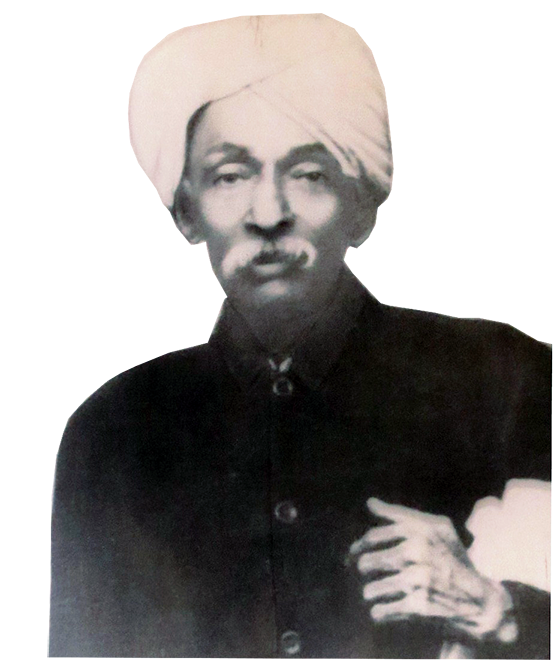 Featured Philosophical/ Spiritual Books
Listen to melodious bhajans
Kakad Aarti
Listen to the Kakad Aarti
Sakalche Bhajan
Listen to the Sakalche Bhajan
Duparche Bhajan
Listen to the Duparche Bhajan
Ratreche Bhajan
Listen to the Ratriche Bhajan